I can't believe Thanksgiving is just a week away! Then Will and I will be off to the Windy City! Aside from the cold weather ("cold" for California), I love absolutely everything else about this time of year...especially all of the great food. Recently, I've rediscovered pumpkin as a star ingredient of autumn and winter time dishes. I have always loved pumpkin pie, but for a long time that was the only use I knew about for the orange squash-- aside from pumpkin carving of course. Lately though, I've suddenly come across pumpkin in all sorts of foods, from soup to bread to pasta!
A few nights ago I had a delicious pumpkin and sage butter ravioli from an Italian restaurant just a few blocks from our home. The fried sage and sweet spices were a perfect compliment for the creamy pumpkin filling.
Last weekend when we visited my parents, my mom made a delicious pumpkin mi fen (rice noodle) with sweet sausage. Pumpkin is actually considered a super health food in Taiwan and lately there has been a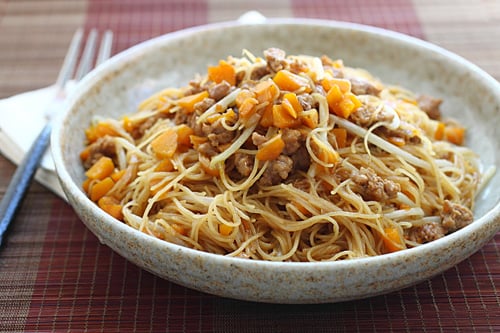 For the trip home, I also happened to bake some pumpkin bread for dessert. It was from mix since I had a bit of a crazy week but in the future perhaps I would try a recipe from scratch.
And of course Thanksgiving wouldn't be complete without my beloved pumpkin pie!
To top it all off, pumpkin is very low in calories (just 26 cal for 100 g), high in fiber and anti-oxidants, and is one of the highest sources of vitamin A among vegetables (a good thing for me because I don't like carrots so this is a fine alternative source for vitamin A). Now that's icing on the pumpkin pie~